New Passenger
Complete a short application to determine which transportation programs you may be eligible to enjoy. This information will only be used to assess your transportation needs.
Get a Para Pass
A Para Pass makes riding OUTS even easier with online payment options.  To get a new Para Pass, contact our team between 8am and 5pm Monday-Friday at (910) 346-2998.
Fares are based on program specifications and address of destination for each one-way trip. Staff will advise you of your fare when you are first set up for service.
Fares will be collected at time of boarding the vehicle. You must have exact change. Drivers will not issue change.
Passengers have the option of purchasing a ParaPass. Please contact the office for more information.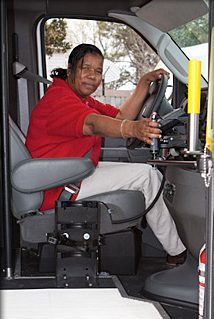 Description of Service
OUTS operates subscription, demand response, general public transportation and ADA Complementary Paratransit Service throughout all of Onslow County. Transportation out of county is also available and the schedule can be found on our website www.onslowunitedtransit.org or by contacting our office.
Who can ride?
Service is provided to passengers needing transportation to medical appointments, work, daycare, shopping, social and recreation activities, etc. OUTS also contracts with several agencies in Onslow County and provides transportation for their clients.
Door to door as needed
Service is origin-to-destination. Assistance is provided from the vehicle to the first doorway for passengers who need additional assistance to complete the trip. Please refer to the Passenger Assistance section for more information.
Non-emergency transportation
OUTS provides non-emergency transportation only. If a passenger is unable to sit up, has severe pain, or other debilitating problems, this agency cannot transport them.
OUTS' fleet
OUTS' fleet consists of a total of 20 vehicles with 18 of those vehicles being lift equipped, 1 non-lift vehicles, and one mini-vans. All vehicles are equipped with two-way radios and cameras.
Passenger
is defined as an individual who has completed the enrollment process with an agency or OUTS Transportation. Each passenger must be either approved, authorized, or be a member of the general public to receive transportation services.
Accessible Service
is defined as transportation services utilizing vehicles and facilities for passengers in wheelchairs and/or passengers with other special needs.
Attendant/Escort
is defined as an individual who is authorized to ride with and provide assistance to a passenger.
Demand-Response Service
is defined as daily, weekly, and/or monthly scheduled appointments. This type of trip can also be shared use transportation service operating in response to calls from passengers or their agency, or a vehicle is scheduled to pick up the passengers to transport them to their destinations.
Fare
is a fee charged to general public to ride transportation, usually stated for a one-way trip.
General Public/Private Pay
refers to those individuals whose trip will not be paid by an agency or Medicaid. Passengers will be required to pay set fare at time of boarding vehicle.
No Show
is defined as "no passenger transported from a destination". Transportation either arrives or is en-route to a passenger and the passenger did not get on the vehicle for transport and did not give proper notification of cancellation.
Proper Notification
for city and county trips is defined as the need for a passenger or agency to call at least two (2) hours prior to the appointment time; however, passengers are encouraged to cancel as soon as possible.
Proper Notification for an out of county trip is 5:00 p.m. the day before the needed transportation. If the transportation is a Monday, cancellation should be made by 5:00 p.m. on the Friday before. If the out of county trip is the day after a holiday, the cancellation must be made by 5:00 p.m. the day before the holiday.
Subscription Service
is defined as service in which passengers register for rides for a predetermined period and only have to call the office to change or cancel the subscription.
Will Call
Call OUTS when ready. Passengers will have to wait until the next available van going into his/her area. (Only allowed for medical appointments)
Drop off
is defined as a passenger being picked up from residence and needing to be dropped off at a location by a specific time.
Return trip
is defined as a passenger being picked up from a location by a specified time and needing to go home.
Same day change
refers to a passenger requesting to alter their pre-scheduled trip on the day of travel. OUTS does not authorize same day changes.